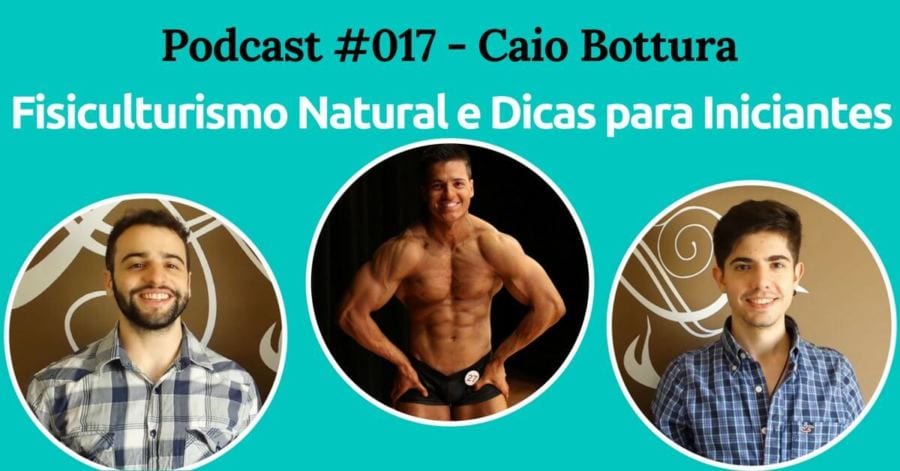 Hoje temos a honra de conversar com o atleta de fisiculturismo (bodybuilding) Caio Bottura.
O Caio compete em fisiculturismo natural (isto é, sem esteroides anabolizantes) nos Estados Unidos, além de divulgar bastante conhecimento e um pouco de sua rotina em seu canal do Youtube.
Ele também tem um Podcast, chamado Brains Gains.
Além disso, o Caio é autor de diversos livros digitais sobre esses assuntos, incluindo:
Se você se interessa por treino, alimentação e hipertrofia, vai adorar este podcast.
Pois, neste episódio, falamos sobre:
a história do Caio,
como separar o joio do trigo quando estiver buscando por informações científicas,
alguns autores e cientistas que você pode estudar,
como montar um treino inteligente,
como descobrir se você é iniciante, intermediário ou avançado na academia,
o que é dieta flexível e por que se interessar por ela,
e muito, muito mais!
Ouça o episódio completo clicando no player – ou leia a transcrição mais abaixo.
Assine: iTunes | Android | Stitcher | RSS
De toda forma, escute o episódio e compartilhe com seus amigos!
É uma maneira muito fácil de transformar sua ida ao trabalho (ou seu treino na academia) em um momento de aprendizado e lazer.
Transcrição Completa Do Episódio
Guilherme: Bem-vindo a mais um podcast do Senhor Tanquinho. Eu sou o Guilherme.
Roney: E eu sou o Roney. E aqui a nossa missão é deixar você no controle do seu corpo.
Guilherme: Olá Tanquinhos e Tanquinhas!
Bem-vindos a mais uma edição do nosso podcast e hoje nós contamos com a presença do Caio Bottura.
Tudo bem, Caio?
Caio Bottura: Tudo bem! E aí, pessoal, tanquizada? Como é que vocês estão?
Muito obrigado por ter me convidado para o podcast, primeiro de tudo. Estou bem feliz de estar aqui – e bora lá, bora bater um papo.
Roney: Então, como o pessoal já deve saber, mas só para explicar para o Caio, a ideia do podcast é ser rápido, um espaço para vocês conhecerem mais sobre o trabalho do Caio e as perguntas são curtas e principalmente sobre ele, mas você, Caio, pode demorar o tempo que quiser para responder.
Caio Bottura: Eu falo bastante, hein?
Guilherme: Risos. Então fique à vontade!
Então só para dar um pouco de background, o Caio compete no fisiculturismo natural que, para quem não sabe, é sem uso de esteroides anabolizantes e relata o seu dia-a-dia no canal do YouTube "Caio Bottura" e, claro, a gente vai deixar todos os links aqui na descrição do podcast e no post no site também.
Roney: Ele se formou recentemente nos Estados Unidos num curso voltado para a Fisiologia do Esporte e dos exercícios em geral. Além disso, o Caio também tem seu próprio podcast – que, claro, fala de musculação e fitness. Isso sem falar de um outro projeto paralelo bem legal que ele mantém com a sua namorada Holly.
Guilherme: Enfim, é muita coisa… Nós demos uma visão rápida de você aqui, Caio, mas tem mais alguma coisa que você acha que as pessoas deveriam saber sobre você?
Caio Bottura: Cara, vocês fizeram uma ótima apresentação, velho! Muito obrigado! E deixa eu pensar… eu tenho vários projetos que eu sempre estou trabalhando neles, pensando neles, fazendo eles e hoje em dia, realmente, é meu canal o principal, Brain Gains, que é o meu podcast que eu adoro fazer.
Adoro gravar podcast. É uma mídia sensacional que está crescendo no Brasil agora, mas espero que mais gente aí conheça esse tipo de veículo de informação que é uma coisa muito boa e que me ajuda muito na minha vida.
E também tem meus livros, né? Meus e-books de dieta, de treino que eu escrevi e hoje em dia eu acabei de abrir uma empresa aqui nos Estados Unidos e estou fazendo consultoria, graças a Deus, estou com vagas lotadas e fila de espera cheia, mas isso é muito bom e eu fico muito feliz que o pessoal confie tanto no meu trabalho.
Acho que é isso aí, cara.
Guilherme: Bem legal!
Nós vemos que você é um cara bem ocupado, gosta de tocar vários projetos… e como você começou a se interessar por nutrição e treino?
Caio Bottura: Cara, simplesmente por necessidade porque quando um moleque de 16 anos entra na academia, ele quer ter resultado e ele começa a procurar: "Como é que eu tenho um resultado mais rápido? Como é que eu tenho mais resultado?", então…
Eu nunca fui uma pessoa de correr atrás de informação, de buscar me informar tanto sobre alguma coisa, mas quando eu entrei na academia, eu passava horas e horas e horas pesquisando, tentando aprender, saber que suplementos tomar, que treino fazer, o que comer… e pouco a pouco fui me apaixonando por aquilo.
Eu adorava pesquisar sobre aquilo, adorava aprender porque é uma coisa que você vê resultados. Não é uma teoria que você aprende na sala de aula e é uma teoria. É uma coisa que você coloca em prática e você começa a notar realmente que funciona: "Caramba, olha só, realmente eu perdi peso, ganhei peso, aumentei minha carga em tal exercício. Tá dando certo o que eu estou fazendo".
Isso é uma sensação muito boa. Aquela sensação de missão cumprida, de "eu estou fazendo algo certo", então o meu conhecimento foi sempre aumentando, a minha sede por conhecimento foi sempre aumentando e até hoje, eu sei muito mais do que eu sabia quando eu comecei, mas cada vez eu acho que eu sei menos porque você começa a procurar informações mais avançadas, mais profundas e você vê que você sabe muito pouco, na verdade, né?
Eu acho que os experts, quando eles sabem de alguma coisa, não que eu seja um expert, mas quando você sabe muito bem sobre alguma coisa, para você aquilo é uma segunda natureza.
É uma coisa tão estúpida de fácil, de ridículo de entender que você não se toca nisso e as outras pessoas elas vêm e perguntam: "Cara, o que é um carboidrato?", daí você fala: "Como assim você não sabe?".
Na sua cabeça todo mundo sabe isso, mas na verdade não. Então hoje eu ainda estou na busca de aprender mais, de me informar melhor e de passar esse conhecimento aí para os meus inscritos, para os meus seguidores.
Roney: Nessa questão da informação, do conhecimento, que nós estamos sempre indo atrás de mais, como você aprendeu a filtrar o joio do trigo? A separar a boa da má informação?
Caio Bottura: Essa é uma ótima pergunta.
Eu acho que, olha, quando eu vim para os Estados Unidos, na verdade não quando eu vim para os Estados Unidos, quando eu comecei a treinar, eu estava em Bermudas. Eu estava fazendo intercâmbio. Então eu estava no costume de pesquisar as coisas em inglês.
A minha cabeça já começou a funcionar em inglês, então era uma segunda natureza para mim. Eu chegava na internet e pesquisava as coisas em inglês. Eu pesquisava esse tipo de coisa e em inglês você tem muito mais informação. Uma variedade muito maior de informação do que em português e aí você começa a ver quem que é consistente com o trabalho, quem que…
O que eu quero dizer com consistente? Um cara que mostra uma coerência profissional, então você encontra nomes como Layne Norton, Eric Helms, Alan Aragon, Lyle McDonald, caras que têm muito conhecimento na área, que todas as outras pessoas que têm conhecimento, citam o trabalho dessas pessoas e você começa a seguir mais uma pessoa, outra pessoa e começa a ver que o trabalho desses experts, dessas pessoas que sabem muito, tem muita coerência, eles falam muito da mesma coisa.
Então você fala: "Se esses quatro experts estão falando que X é X, então provavelmente X é X. Se esse cara está falando que X é Y, eu não sei o quanto eu vou acreditar nele". Só que eu acho que é tudo uma questão de ter bom senso porque nada é 100% exato na musculação, na Medicina, na Fisiologia, né?
Claro que algumas coisas são, mas tudo depende muito de vários fatores variáveis. Eu acho que qualquer pergunta que alguém me fizer no meu canal ou que já me fizeram, eu posso responder 100% delas com "depende" porque eu não sei o quanto você pesa, eu não sei o que você faz, não sei a sua rotina, seu metabolismo, sua genética, se você tem alguma condição… tudo vai depender.
Mas separar o joio do trigo é questão de bom senso. Quanto mais você sabe, mais você começa a ter senso crítico das coisas, né? Então é muito normal um leigo pensar assim: "Ah, a proteína faz construir músculo", aí o cara fala para ele: "É, por isso que você tem que tomar Whey logo depois do treino para já reconstruir suas fibras musculares que foram danificadas e não sei o quê e se você tomar 15 minutos depois, já era, seu treino foi um lixo".
O cara acredita nisso porque ele não tem conhecimento de Fisiologia.
Ele não sabe realmente os caminhos fisiológicos da hipertrofia que acontece no corpo, então ele simplesmente acredita. Agora, quando você começa a estudar mais isso, você começa a ter mais senso crítico, você começa a questionar muito mais as coisas. Quanto mais você questiona, melhor – porque mais você vai procurar a fundo e vai começar a ter uma base de tudo.
Então hoje eu acho que, no começo é muito difícil de separar o joio do trigo porque você não tem aquele senso crítico por falta de conhecimento naquela área.
Então eu comecei realmente a entender o que era bom e o que era ruim quando eu comecei a olhar mais o trabalho de pessoas que eu falei, por exemplo, Layne Norton – ele é um cara que é fisiculturista profissional natural e eu sou natural então as coisas que ele falava eram completamente diferente do que você via aí na internet porque era tudo hormonizado para hormonizado e é uma fisiologia um pouquinho diferente.
O pessoal era muito broscience, era muito achismo… Fisiculturistas profissionais mesmo. Eles não sabiam o que estavam fazendo. Eles falavam: "Não, tem que comer proteína para caramba".
Tipo assim, o Ronnie Coleman comia 600 gramas de proteína por dia. Você acha que eu vou ter que comer 600 gramas de proteína por dia? Não! Ninguém precisa disso!
Então quando você vê o Layne Norton falando: "É mais ou menos isso, isso e isso", ele é um PhD em Nutrição, então você dá uma credibilidade maior para o cara e é um cara focado totalmente no fisiculturismo, no powerlifting, no esporte, em performance, então você vai nessa linha. Só que eu também não sugiro você ficar só em uma pessoa.
É muito legal você seguir uma pessoa que você tem confiança e seguir o trabalho dela porque é uma linha de pensamento sempre muito parecida, mais fácil de você entender… eu gosto muito do Lyle McDonald eu já li quase todos os livros dele, então o meu pensamento bate muito com o dele e eu gosto bastante.
>>> Relacionado: veja os 4 protocolos do Lyle McDonald para eliminar a gordura teimosa
Só que tem coisas que ele fala que outras pessoas discordam, então é sempre bom também ver essas pessoas que estão discordando e ver argumentos dos dois, ver debates, ouvir podcasts que às vezes eles fazem debatendo alguma coisa porque ninguém nunca vai estar 100% certo ou 100% errado como eu já falei aqui antes.
Então realmente, essa pergunta é muito boa, cara. Eu nem sei se cheguei realmente a concluir ela, a responder ela porque é boa e é difícil a gente separar o joio do trigo, então o que eu dou de conselho para o pessoal é você simplesmente fazer o teste. Testa em você. Por que? Porque tudo depende.
Então se alguém te falar para fazer certa coisa porque é o jeito que vai dar certo, se você está em dúvida, testa. Se você sabe que o cara está falando besteira, esquece. Mas se você está em dúvida, testa no seu corpo, vê como é que responde. Por que? Porque realmente pode funcionar para uma pessoa. Pode funcionar para o cara que está falando que funciona para ele, mas talvez não funcione para você e aí que você começa a aprender.
Dá dicas para os seus amigos e começa a ver como o corpo deles responde. Eu acho que é tudo questão de erro e teste, né? Como eu já falei, erros e acertos e você aprender para ter senso crítico para começar a conseguir criticar alguns tipos de informação errônea, informação sensacionalista.
Como a gente pode citar alguns comentários de Netflix como What the Health, que todo mundo veio me perguntar: "Po, Caio, como assim? Não posso comer carne mais?". Eu falei: "Meu, você tem que ter senso crítico. Você não pode ver qualquer coisa na internet e na televisão e acreditar naquilo" porque meu pai olha um artigo de Facebook e fala assim: "Nossa, o homem mais velho do mundo tem 186 anos". Ele acredita, entendeu? Aí é um senso crítico zero!
Então você tem que entender e começar a criticar e avaliar melhor as coisas. Vai atrás! Se alguma coisa te incomoda tanto como aquele documentário, vai atrás dos estudos citados no documentário e lê eles inteiros. Faz a sua crítica: "Será que esse estudo foi bem feito? Quem patrocinou esse estudo?". Esse tipo de coisa.
Falei demais, para caramba aí, então vamos continuar…
Guilherme: É uma pergunta super boa e só fazendo um paralelo, para mim também a mudança foi, curiosamente, quando eu estava morando na Holanda e comecei a pesquisar as coisas em inglês e comecei a ler em inglês.
Inclusive conheci muito desses autores que você citou agora como o Lyle McDonald, o Alan Aragon, o Eric Helms – e é muito curioso como teve que ter, no seu caso e no nosso, essa mudança de idioma para poder achar uma informação um pouco mais já pré-filtrada, né?
Além disso, também é bem bacana observar que, no trabalho desses autores… você consegue perceber claramente lendo os livros deles o que é embasado, o que tem referências bibliográficas aceitáveis e que tem referências científicas de estudos e quando eles têm algum palpite que foi por anos e anos de prática, mas que não está estudado, ainda não tem ensaio clínico randomizado, uma coisa assim…
Eles têm também a humildade de falar assim: "Isso aqui é a minha experiência com os meus clientes", então acho que esse tipo de idoneidade, esse tipo de honestidade que eles têm para separar as informações também é muito legal. É uma coisa que eu observo nesses grandes caras aí, que todos eles têm essa clareza do que é deles e do que "isso é porque eu estudei isso, isso e isso".
Caio Bottura: Então, irmão, você falou tudo agora!
Eu acho que, nunca siga ninguém, que só vê as coisas 8 ou 80, né? Nunca dê ouvidos quando você começa a ver uma pessoa que trata algum tipo de dieta, algum tipo de coisa de forma messiânica… eu já vi vários coaches aí que é só carb backloading. Eles têm 100 atletas e os 100 usam carb backloading.
E tipo, cara, é complicado você trabalhar com uma pessoa dessas porque ele não vai querer ver o seu lado, ele não quer saber de outro tipo de dieta. Ele acha que só aquilo funciona. E agora, funciona? Funciona, sim, funciona; mas isso quer dizer que é superior a todos os outros tipos de dieta, para todas as pessoas? Eu não acredito que seja, entendeu?
Então esse tipo de pessoa como, vamos falar do Lyle McDonald novamente, é um cara que fala da dieta flexível mas ele também fala da dieta cetogênica, mas ele também fala de outras dietas.
Ele fala: "Ó, isso funciona assim, mas você tem que pensar nisso, você tem que fazer isso…" ou também: "Ah, isso aqui é um estudo e isso aqui simplesmente eu observei nos meus 15 anos de estudos em musculação e trabalhando com clientes. Eu não tenho nada comprovado, mas sempre funcionou quando eu aplique no meu cliente tal, tal, tal".
Então você pensa: "Pô, legal, essa informação aqui que talvez não seja comprovada cientificamente, mas eu vou testar, porque se ele está falando que ele observou isso de uma forma consistente durante os anos, é capaz de estar muito certo".
Então eu acho que isso aí é o ideal.
Guilherme: Acho que você falou tudo. Complementou o que nós estávamos querendo dizer mesmo. Chegou nesse ponto que a gente também sempre incentiva os nossos leitores a chegar, que é o da evidência científica, você saber reconhecer o nível de evidência das coisas: desde uma coisa já ensaiada, estudada; quanto o relato anedótico e todos os graus de separação entre os dois; mas saber o que é cada coisa para você poder pesar e testar em você.
Bom, a gente falou bastante disso e… próxima pergunta!
Roney: Nós sabemos que muita gente que acompanha o nosso podcast ou mesmo a gente nas outras mídias sociais, não treina de maneira regular. Muita gente treina, mas muita gente não treina, até porque o nosso foco é principalmente na parte de dieta. Nós falamos bastante de emagrecimento, dieta low-carb e outros quesitos para melhorar a qualidade de vida.
Essas pessoas, muitas vezes, nem gostam, dizem que não treinam porque não gostam de academia, não suportam academia e muitas vezes, justamente por ter tido alguma experiência negativa no passado com academia, sei lá, um treino que tinha que ir todo dia, ficar três horas por dia na academia e isso pode ter traumatizado um pouco essas pessoas.
Como você acha, pela sua experiência, que seria uma boa maneira das pessoas criarem esse hábito de ir na academia ou de criarem uma rotina de treino e, bom, na sequência a pergunta seria como montar um bom treino para iniciantes.
Guilherme: Um treino que seja desafiador, porém que não seja chato, por exemplo.
Caio Bottura: Certo, certo. Essa é uma pergunta que daria para fazer um podcast só nisso.
Cara, primeiro de tudo, vou falar como eu trato os meus clientes, mais ou menos. Eu pergunto assim primeiro: "Quantos dias da semana você tem certeza que você vai conseguir treinar?" Não fala seis se você sabe que você só vai conseguir fazer uma vez por mês, seis dias, né? Não fala cinco, se você acha que não vai conseguir manter cinco.
Seja realista. A gente pode construir um bom programa de treinamento com três vezes na semana, sabe?
E agora: "Quanto tempo que você pode ficar na academia, por dia? Será que tem um dia que você pode ficar mais tempo?" e aí você começa a pensar em cima disso. Você tem que ver a sua rotina, você não pode simplesmente criar o melhor treino do mundo, que vai te obrigar a ficar três horas na academia por dia e você não tem esse tempo. Não é sustentável, não é realista.
Então o iniciante, eu acho que, se nós estamos falando de iniciante de verdade, você vai simplesmente fazer praticamente todos os exercícios básicos, vai aprender primeiro a fase neurológica, neuromotora dele para aprender o movimento, como é que é. Não se preocupar tanto com carga…
Dá para começar com três vezes full body, sabe? Para você ir se adaptando à academia, aos exercícios, às máquinas, como é que é e aí você tem um tempinho de uma hora a três vezes por semana, que já é legal e não cansa, não entedia, não deixa o cara todo dolorido e fala: "Puts, eu não quero mais ir na academia", que é muito chato isso.
É um jeito bom de começar porque também, se a gente precisar aumentar o volume, a gente tem mais dias da semana para acrescentar.
Mas aí depende, cara, depende muito de cada pessoa. Tem gente que quer ir quatro vezes na semana, eu gosto de fazer um upper-lower. Eu gosto sempre de estimular cada músculo duas vezes por semana, pelo menos. Então eu acho que se a gente for dar recomendações gerais, eu gosto muito de trabalhar com treinos de força, principalmente em exercícios compostos.
Eu acho que, cara, supino, agachamento e terra são coisas que não podem faltar no seu treino. A não ser que você tenha algum tipo de problema: "Ah, eu herniei meu disco da lombar".
Aí beleza, a gente tem que pensar num treino com estratégia, mas para a maioria das pessoas saudáveis esses são ótimos exercícios básicos que vão desenvolver a parte do Sistema Nervoso Central, a parte neuromotora e também, claro, força e hipertrofia e acho que isso é muito importante.
E aí depois trabalhar com exercícios mais isoladores, com repetições mais de hipertrofia e a gente pode fazer super séries, usar algumas estratégias intensificadoras, mas na maioria das vezes a maioria das pessoas não precisa de nada cabuloso, não precisa de nada muito elaborado.
Elas simplesmente precisam seguir uma cadência boa, aprender a controlar a excêntrica e concêntrica. Não precisa ser cinco segundos de excêntrica, dois segundos já está bom. Simplesmente fazer movimento concentrado focando…
Os iniciantes têm que aprender a ter uma conexão mente-músculo. Eles têm que aprender a engajar cada músculo, então por isso que eu gosto bastante de exercícios compostos e isolados.
Os compostos é um aprendizado para a vida toda. Você vai melhorar ele a sua vida toda. Você não aprende a fazer supino em uma semana, em um mês, em um ano.
Você vai melhorando aos poucos e tem várias coisinhas, pequenos tweaks (ajustes) que a gente fala em inglês, que você consegue alterar e melhorar a sua técnica, a sua forma e etc. Então são exercícios que você tem que ter um controle corporal 100%: o agachamento, o terra, como eu já falei várias vezes.
Eu acho que é mais ou menos isso. Eu acho que as pessoas têm que saber simplesmente que não existe treino mágico, não existe treino que vai te deixar que nem o Felipe Franco em um mês. Não adianta copiar treino de atleta profissional. Você tem que começar com o básico e aprender a fazer os movimentos.
Eu acho que o mais importante é você aprender o movimento de cada exercício porque, no começo, se você treina errado, se você vai muito pesado de uma vez, você acaba criando vícios neurológicos.
Você acaba criando aqueles vícios que você treina, estimula um movimento errado para aquele exercício. Ele está fora de simetria, está fora de coordenação.
Você, vamos dizer assim, no agachamento, está inclinando muito para frente, aí você está dando aquela posteriorização pélvica, no final da repetição, você não consegue manter uma coluna neutra… aí se você se acostuma a treinar dessa maneira, vai ser muito depois você aprender a maneira correta – porque aí você já criou esses vícios que foi assim que você aprendeu e estão enraizados em você.
Então, primeiro de tudo, esquece peso, esquece "ficar gigante"… acho que as primeiras seis semanas de treino de hipertrofia, você vai na academia e nem nota a hipertrofia no seu corpo. Ele está realmente tendo adaptações neuromotoras, então o que eu recomendo mesmo é você focar muito em aprender os movimentos e a biomecânica de cada exercício e ter a conexão mente-músculo ali em cada exercício e depois a gente começa a pensar em outras coisas.
A divisão de treino, como eu falei, três vezes por semana dá para começar um treino bacana; quatro vezes por semana, dá para começar um treino bacana, depois a gente vai aumentando o volume quando necessário e pensar em exercícios compostos, com a pegada mais de treino de força.
Não precisa ser treino de força absurdo, com carga que você não aguenta. Simplesmente quatro a seis repetições, umas cargas um pouco mais pesadas e daí para a frente vai aumentando, fazendo uma progressão de cargas.
Guilherme: Boa! Acho que foi bem respondido para iniciantes e acho que um problema comum entre as pessoas é que muitas delas não conseguem reconhecer com clareza se elas são iniciantes ou intermediárias – ou todo mundo que vai há seis meses às vezes acha que é avançado e na verdade não é esse o caso.
Se você tivesse que ajudar essas pessoas a se definirem nessas categorias, o que você diria que separa os iniciantes, os intermediários e os avançados?
Caio Bottura: Cara, eu vou até abrir um livro de treino aqui porque eu tenho várias tabelas bacanas onde eu consigo determinar esse tipo de coisa. Claro que eu não vou ler o livro aqui, nem nada, mas só para pegar uma referência melhor, é que realmente as pessoas não consegue se identificar muito bem… elas acham: "Ah, treino há seis meses, atingi meu limite natural. Nossa, agora tem que tomar anabolizante para crescer!". O que não tem nada a ver.
Seis meses você provavelmente… nem se considere nada ainda. Tem uma tabela da NSCA, que é a Organização de Strength and Conditioning dos Estados Unidos que fala assim:
Status de Treinamento – novato tem um tempo de treino de menos de dois meses; uma frequência de uma a duas vezes; estresse de treinamento: nenhum ou baixo; técnica, experiência ou habilidade: nenhuma ou mínima.
Eu acho errado. Eu não considero assim, tá?
O avançado teria mais de um ano de treino, com uma frequência de três a quatro vezes na semana; estresse de treinamento: alto e técnica, experiência e habilidade: alta.
Eu acho, cara, que no seu primeiro ano de academia você é novato, sabe?
Tudo depende muito de cada pessoa. Têm pessoas que vão estar na academia por cinco anos e vão ser novatos ainda. Por quê? Eu vou ler aqui o que eu considero novato.
Só para vocês terem uma noção melhor: "Este indivíduo não tem quase nenhuma experiência com barras, halteres e máquinas de academia. Seu maior objetivo é alcançar a proficiência nos exercícios, ou seja, aprender o movimento correto de cada exercício e os músculos envolvidos e familiarizar seu Sistema Nervoso Central com os exercícios"; que foi o que eu falei ali como é que nós desenvolvemos o treino e não sei o quê…
"Uma das primeiras adaptações do corpo ao começar o treino com peso não é ganhar músculos ou força e sim aprender a recrutar fibras musculares para movimentar o peso dentro do seu eixo. Um exemplo é um novato tentando fazer supino pela primeira vez. Mesmo sem colocar peso na barra, ele vai ter uma dificuldade e a barra tremerá e mexerá para todos os lados". Isso é muito normal.
O novato geralmente treina de três a quatro vezes na semana, mas não estou falando que ele não possa treinar mais que isso, mas apenas com esse estímulo, com um volume mais baixo de treino, ele vai conseguir ter muitos resultados: porque qualquer coisa que nós fizermos com o novato, qualquer estímulo novo, vai trazer resultados para ele.
Ele não precisa de um treino de um atleta profissional. Ele simplesmente precisa entrar na academia e começar a mexer o corpo dele e é um indivíduo que consegue ganhar peso e força de uma maneira muito rápida. O novato vai ganhar muito peso muito rápido, vai ganhar muita força muito rápido porque aquela curva, aquele gráfico onde há uma curva que vai para cima e depois estagna e começa a subir bem pouquinho.
Agora as principais características e diferenças entre as categorias, os níveis de treinamento, é a capacidade de volume de treino. O novato é aquele que tem a capacidade menor. Ele faz menos repetições e séries e levanta menos peso do que o intermediário ou o avançado.
Isso não quer dizer que ele tenha uma desvantagem em ganhar peso ou virar hipertrofia. Na verdade, ele ganha mais massa magra em um ano do que o intermediário ou avançado, mas isso acontece com qualquer estímulo novo, hipertrofia e não sei o quê.
Agora, também depende muito do indivíduo, né? Tem indivíduo que, vamos dizer, ele treina um ano e as cargas dele de agachamento são parecidas com a de um atleta quase profissional de powerlifting. Isso não quer dizer que ele seja avançado. Por quê? Porque, de acordo com o seu potencial genético, ele ainda é iniciante.
O que isso quer dizer? Isso quer dizer que o cara chegou num nível, comparado ao resto dos humanos da Terra, muito alto. Daí ele é muito melhor que a maioria das pessoas.
Só que, comparado ao seu potencial genético, aonde ele pode chegar, ele ainda está longe de chegar onde ele pode chegar. Entendeu? Ele ainda é um cara, um freak – isto é, um cara com uma genética abençoada.
Então o desenvolvimento dele em um ano é muito maior que o das outras pessoas, mas o um ano dele não é nada comparado com o que ele vai ser em 10 anos.
Eu posso até te dar exemplos…
Existem pessoas, atletas aí que a gente ouve o nome e que se tornou profissionais hoje em dia, mas que o cara, o Ben Pakulski. Não sei se o pessoal vai conhecer, mas é um atleta IFBB profissional. A primeira vez que ele foi fazer agachamento, ele já fez com 150 quilos. Primeira vez que o cara foi fazer agachamento na vida dele!
Isso não quer dizer que ele é avançado. O cara treinou uma vez na vida. Ele não é avançado, mas ele é um cara que tem um potencial genético muito maior.
Guilherme: Sim, perfeito.
Eu acho que nesse contexto você mandou muito bem de explicar, de desmistificar esse valor associado de avançado e iniciante com relação a força ou força relativa, e muita gente por aí tem essa concepção errada.
O jeito que você mencionou de comparar a pessoa com o potencial dela e a própria necessidade dela de estímulo novo ou de volume, intensidade, enfim, de manipular essa variáveis com mais cuidado. Na nossa opinião, essa ideia (de avaliar a capacidade de trabalho e a distância até o potencial genético) é uma classificação superior.
Então, Caio, nós mencionamos dos treinos, como as pessoas poderiam montar um treino e a nós sabemos que você tem um livro completo ajudando as pessoas a montar o treino delas, explicando algumas coisas básicas e até mais avançadas sobre treinamento.
Só que quando nós indicamos para algumas pessoas que conhecessem o seu livro, porque nós gostamos dele bastante, muita gente respondeu com a seguinte pergunta: "Mas eu vou montar meu treino? Será que eu tenho capacidade para isso?".
Então o que nós queremos saber é o seguinte: Você acha que a maioria das pessoas deveria ser capaz de montar o próprio treino, deveria ter esse conhecimento ou é melhor terceirizar?
E, aprofundando essa pergunta: Que tipos de pessoas ou quais situações mais se beneficiariam de contratar um coach ou personal?
Caio Bottura: Então, deixa eu pensar aqui…
Sim, todo mundo deveria pelo menos saber regular o seu treinamento, autorregular seu treinamento.
Acho que montar o treino… todo mundo que está na academia e busca mesmo ter o melhor rendimento possível, eles vão se beneficiar mais tendo um cara que tenha um pouco mais de experiência, mais anos de bagagem, de experiência, que estudou um pouco mais sobre isso para auxiliar elas.
Pessoas que querem simplesmente ter um bom resultado e que talvez querem aprender mais, eu acho que meu livro simplesmente é muito bom para esse tipo de pessoa… na verdade meu livro eu não escrevi ele só para atletas, eu não escrevi ele só para iniciantes. Eu escrevi ele para todo mundo. Simplesmente é um livro que é para todo mundo e acho que todo mundo vai conseguir tirar um pouquinho dele, tá?
A pessoa que… eu acho que um coaching é ideal para a pessoa que não tem tempo dela mesma comprar um livro e ler, por exemplo, e passar algumas horas estudando sobre treinamento ou uma pessoa que realmente não quer… tem cara por aí que tem bastante dinheiro, um cara que é profissionalmente bem sucedido, é bem sucedido na vida pessoal dele e na vida amorosa dele, só que ele quer mudar de vida.
Ele está cansado de talvez ser gordo, está cansado de ser muito magro, ele quer ter um shape bacana, quer ser mais saudável. Só que ele não tem tempo, nem saco para ficar pesquisando e aprendendo sobre isso. Então o que ele faz? Ele paga um coach para ajudar ele.
Aí tem a pessoa também que simplesmente procura, procura, procura na internet, mas como a gente falou, ela não sabe separar muito o joio do trigo, não está entendendo o que é informação boa e o que é ruim, está um pouco perdida… precisa do auxílio, precisa de alguém para apontar ela na direção certa. Então ela também vai se beneficiar de contratar um coach.
E essa pessoa talvez vai se beneficiar com o meu livro porque como nós falamos, é você pegar uma pessoa que você acredita no que ela fala e também talvez seguir o método dela, você vê que dá certo e: "Pô, vou seguir e vou ver como é que é…".
Por quê? Os meus livros são simplesmente isso: sou eu conversando com você, mostrando o método de montar um treino: "Ó, é assim que eu faço passo a passo, blá, blá, blá; tipo ponto 1, 2, 3" e o pessoal vai fazendo. Acho que é muito bacana, agrega bastante para muita gente. Muita gente já conseguiu montar o próprio treino com o meu livro.
Isso não quer dizer que o cara chegou no ápice: "Ah, eu sei tudo agora!". Não, ele pode agora ler outros autores, incrementar técnicas do treino dele, aumentar algumas coisas, melhorar outras coisas… não existe treino perfeito. Não existe o treino perfeito.
Então todo mundo deveria pelo menos saber, ter uma noção de como estruturar o treino e talvez montar aquele esqueleto para talvez um expert avaliar e talvez fazer uma mudança aqui, outra ali e tudo isso vai depender de cada pessoa, da disponibilidade dela de treinar, do treino, das condições físicas dela… tudo depende muito também.
Acho que, como eu já falei, não existe um treino perfeito, não existe um treino que vai suprir a necessidade da população inteira. Então eu acho que terceirizar é algo muito bom para as pessoas que têm aquele orçamento para comprar um serviço de um coach e é como eu falei, pode ser pessoas que simplesmente querem pagar um cara para fazer tudo para elas ou pessoas que querem aprender mais.
Tem gente que me contrata, que o cara quer aprender comigo. Então ele vai tirar muito conhecimento de mim e aí vai chegar uma época ali, talvez depois de um mês, talvez depois de dois meses, talvez depois de um ano, talvez depois de três anos e ele falar: "Caio, muito obrigado, aprendi muito com você e agora eu quer seguir meu caminho sozinho. Acredito que eu consigo dar conta das coisas um pouco sozinho.".
Tem pessoas que não. Tem pessoas que têm que ter aquela outra pessoa apontando ela na direção certa, tirando dúvidas… elas não têm tanta confiança no que elas estão fazendo ainda. É normal. Então eu acho que você tem que ver o seu perfil, que tipo de pessoa você é e aí também vai ter o tipo de perfil de coaching que vai se encaixar com o tipo de pessoa que você é.
Então é mais ou menos isso, cara. Eu acho que eu consegui responder.
Guilherme: Conseguiu sim!
Ficou super bom e o que nós observamos nos relatos dos nossos leitores e tal é que muita gente contrata um personal não tanto por ele montar um treino, mas pela pessoa criar o compromisso de ir na academia porque tem alguém esperando ela.
Então também tem esse fator de motivação, que muitas pessoas não conseguem criar esse hábito direito e contrata alguém para meio que obrigar ela a ir, para pelo menos estabelecer nesse período mais inicial de estabelecer um novo hábito; ela ter esse incentivo a mais.
Roney: Mudando um pouco de foco, nós sabemos que os resultados são dependentes bastante do treino, mas também da alimentação, né? Então nós sabemos que você é um defensor da dieta flexível, até como maneira das pessoas terem uma adesão a longo prazo nesse estilo alimentar. Você poderia contar para a gente um pouco mais sobre a dieta flexível e como ela funciona?
Caio Bottura: Claro, claro!
Bom, a dieta flexível não é uma dieta. É uma filosofia de dieta que nós falamos dieta flexível mesmo porque não dá para a gente falar filosofia flexível… assim fica estranho, né? Mas não é uma dieta. Você nunca vai pesquisar assim: "Dieta Flexível para ganhar massa magra" e vai achar um cardápio lá. Isso não existe.
Isso na verdade não existe com nenhuma dieta. São estratégias de dieta e a dieta flexível pode ser feita juntamente de qualquer estratégia, de Jejum Intermitente, de Carb Backloading de Dieta Cetogênica, de Dieta Paleo, o que você quiser! O que ela é? É você ter um orçamento por dia, você ter seus macros, uma meta por dia, que são suas calorias.
Por que? É assim que o nosso corpo funciona. É a lei do balanço energético. Não dá para você mudar isso. Não é porque você está comendo uma comida mágica: "Ah, é a comida… super foods! Você come isso, emagrece!" Não! Você pode engordar e ficar gordo, obeso comendo batata doce e frango.
Se você comer demais, o seu corpo não vai transformar aquilo em músculo simplesmente. Não é uma comida que vira músculo no corpo e muita gente não entende isso. Você vai ganhar peso comendo mais calorias do que você gasta e você vai perder peso comendo menos calorias do que você gasta. Claro que aí tem muito mais Fisiologia para se falar, mas resumindo numa forma básica, é assim que funciona a lei do balanço energético e é assim que a gente trata a dieta flexível.
Então você vai separar os seus macros a partir dessas calorias numa maneira inteligente, numa maneira eficiente. Você vai ter meta de fibras. Você não vai comer só porcaria porque você vai ter uma certa quantidade de gordura que você não pode ultrapassar. Você vai ter uma certa quantidade de proteína que você vai ter que bater. Então tudo isso é feito de uma maneira para as pessoas que têm bom senso. Não adianta você querer fazer qualquer coisa e comer porcaria.
A dieta flexível não é uma dieta para gente que: "Ah, eu só quero comer porcaria e ficar sarado". Não é assim que funciona. Você tem que entender um pouco de Nutrição, você tem que entender um pouco de Fisiologia, você tem que entender um pouco de nutrient timing e simplesmente ter bom senso. Acho que a maior questão é bom senso.
Mas é uma dieta que facilita a vida de muitas e muitas pessoas, de 99% das pessoas, que são pessoas normais (tipo "the average Joe") o cara que simplesmente trabalha, tem vida e vai na academia e só quer ter uma saúde e um corpo melhor.
Esse cara não quer fazer oito marmitas por dia, ele não quer levar marmita de frango fedido para a faculdade. Isso só vai atrapalhar a vida dele. Então o que ele faz?
Faz uma dieta flexível, faz as coisas um pouco mais tranquilamente para não sobrecarregar o psicológico do cara. Ele tem coisas além de academia para se preocupar na vida.
E a dieta funciona muito bem para atletas. Tem vários atletas aí que ficam super rasgados com a dieta flexível. Por quê? Porque ela não é restritiva e não vai causar compulsões alimentares.
Ela não vai causar que o pessoal desenvolva compulsões alimentares por se restringir demais. Isso não é bom, isso não é legal, isso não é saudável.
A gente fala que a sua saúde é a saúde física, social e psicológica, né, e a comida é algo muito social. Então você vai sair com os seus amigos, você vai levar a sua marmita? Não!
Você pode comer no restaurante com os amigos com a dieta flexível. Simplesmente pergunta como é preparada aquela comida, pergunta mais ou menos a porção daquela comida e dá uma estimativa dos seus macros aí.
Simplesmente isso. Acho que deu para resumir bem.
Guilherme: Acho que sim e essa questão que a galera fica assustada de estimar os macros e tal, mas é uma coisa que você vai pegando com o tempo também, né? Depois de um tempo você começa a saber quanto que dá 100 gramas de carne, tal corte de carne, feita na frigideira, olhando. Você não precisa pesar no restaurante e nada assim.
Acho que nesse contexto da dieta flexível, uma briga que nós vemos e nós falamos muito no nosso site sobre dieta Paleo, sobre você comer menos alimentos processados, nós vemos muita gente falando: "Ah, isso é tudo mentira, você só tem que bater seus macros, pode comer um monte de bolacha recheada, que é carbo e gordura e depois mete um Whey para dentro…".
E nós, na nossa opinião, não é assim. Essa não é a melhor maneira de usar uma dieta flexível e só para pontuar aqui, porque nós sabemos que sempre dá briga quando nós mencionamos alguma coisa um pouco mais flexível ou fala: "Você talvez tenha que moderar tal coisa", que o foco, na nossa opinião, de uma dieta flexível de sucesso e de saúde a longo prazo é em alimentos de verdade, menos que processados. Não é para você comer só bolacha recheada.
A gente sabe que nenhum fisiculturista, nenhum profissional come só porcaria, mas come-se carne, frango, brócolis e macros que trazem alta saciedade como proteína. Aliás, não vai te matar comer um pouco de proteína a mais, não importa o que sai no jornal. Gordura é importante também, também pelo lado hormonal. Micronutrientes também são importantes para você ter a sua saúde em dia a longo prazo.
Então a gente queria só pontuar isso falando de dieta flexível e também queria a sua opinião nisso também porque nós achamos que isso é uma visão um pouco mais saudável de gente que só vê: "Só vou contar os macros e não importa os alimentos, de onde eles vieram".
Caio Bottura: Claro, claro.
Aí que entra o bom senso. Você pode bater os macros e você pode perder peso. Isso quer dizer que você é saudável? Não sei. Isso aí depende. Como é que você está comendo todos os dias? Como é que está sendo a consistência na dieta?
Realmente, nós queremos evitar alimentos processados. Se eu puder escolher comer uma batata e comer qualquer coisa que gere carboidratos… eu ia falar alimentos dos Estados Unidos, que eu não sei se o público vai se identificar, mas aqui tem um purê de batata que é vendido em saquinho. Vem em pó e você mistura com água.
O que você acha que eu vou preferir comer? Eu vou preferir comer a batata. Mas isso também não quer dizer que o alimento industrializado vai te matar porque você comeu uma bolacha recheada, né?
Mas aí que vem o negócio do bom senso e consistência. Você vai comer um pacote de bolacha todo dia? Eu não acho isso legal. Não é interessante, mas você está morrendo de fome de comer um doce, você precisa comer senão você vai ficar louco… comer uma bolacha recheada vai ferrar a sua dieta? Não vai! Ninguém ficou gordo comendo uma bolacha recheada.
Agora, é consistência a longo prazo. Se o cara faz isso todo dia, não é legal, realmente. Eu concordo exatamente com vocês. Nós queremos comer de maneira saudável. O ideal seria a gente sempre comer alimentos não processados, livrar a gente de inflamação no corpo. Isso que nós queremos sempre priorizar.
Então, claro, com certeza eu concordo totalmente com você nesse quesito. Sempre dando preferência para alimentos saudáveis e agora nós temos metas de fibra, microfibras, de micronutrientes fitoquímicos, então verduras e frutas, eu sempre falo para o pessoal: "Come verduras e frutas, come salada!" e é claro, como eu falei, você tem uma meta de macros.
Você não vai bater seus macros comendo bolacha recheada. Vai faltar proteína, você vai extrapolar nas gorduras e provavelmente nos carboidratos também e não vai ter micronutrientes para suprir sua demanda, então é o bom senso que reina. Sempre.
Roney: Legal, Caio.
Já falamos um pouco de treino, um pouco de dieta e quais seriam outros hábitos saudáveis que você tem no seu dia-a-dia que você acha que é válido destacar para o pessoal?
Caio Bottura: Tem tanta coisa que nós podemos fazer… eu acho que nós temos que ter… cara, meditação é uma coisa bacana; diário, sabe, escrever seus pensamentos, escrever seus objetivos; ter uma priorização de tempo; se desconectar às vezes do mundo, da internet um pouco…
Tem tantos hábitos que nós podemos pensar: o descanso mental, eu acho que a meditação já é algo muito bacana. Não precisa ser algo religioso, não precisa ser algo que é espiritual. Simplesmente se desligar do mundo um pouquinho, sabe? Tudo isso é muito bom, é muito saudável para a gente.
Nós temos que tratar a nossa mente do mesmo jeito que nós tratamos o nosso corpo, sabe? E as pessoas estão nesse "vai, vai, vai, vai, vai", 24 horas por dia, essa sociedade moderna não para um dia nunca e fica na internet o tempo todo, vendo besteira, coisas que não agregam nada na vida no tempo delas.
Isso não é legal. Então é sempre bom nós nos desconectarmos um pouco do mundo, olhar para a gente, para o nosso próprio nariz, para a nossa própria bunda e pensar como é que está a sua vida, o que você está fazendo para atingir os seus objetivos, se está fazendo as coisas da maneira certa, pelos motivos certos e organizar tudo isso em seus pensamentos, objetivos, rotina e etc.
Guilherme: Perfeito, Caio!
Cara, acho que nós falamos de muita coisa hoje: nós falamos de treino, falamos de como montar, falamos da pessoa separar o joio do trigo da informação, falou de dieta flexível e também de comida de verdade, falou de outros hábitos até, que é uma coisa que nós gostamos muito de ouvir porque geralmente quem tem esse cuidado com o corpo, ainda mais as pessoas que vivem disso, que estudam muito isso, acabam também desenvolvendo outros hábitos e, geralmente, elas nem têm oportunidade ou outras pessoas não têm o interesse de ouvir falar disso.
Então eu acho que foi um papo bem rico e quem acompanhou a gente até aqui está bem munido de informações para encarar mais uma semana de treino e dieta com mais animação ainda.
E só para finalizar…
Caio Bottura: Isso aí! Muito obrigado… opa, fala aí…
Guilherme: Só para finalizar, se você tiver alguma mensagem, algum pedido aí para deixar para a galera que escuta a gente aqui, agora é a sua hora, o microfone é seu.
Caio Bottura: Ah, galera, simplesmente se você não me conhece, não conhece o meu trabalho, eu convido vocês aí, estou aberto a críticas construtivas, a mensagens, a qualquer tipo de coisa.
Meu Instagram é @caiobotturapro, é um lugar onde eu gosto muito de interagir com vocês, respondo quase todos os comentários, direct messenger eu faço o meu melhor, é impossível, mas eu faço o meu melhor.
Gosto muito de interagir sempre com os meus seguidores, com o pessoal que me apoia, que me colocou aqui onde eu estou. Então, é o YouTube; Brain Gains, que é o meu podcast. Dá uma conferida que eu tenho certeza que vocês vão gostar bastante.
Queria agradecer muito vocês por terem me convidado aqui para o podcast. Eu adoro gravar, eu adoro tentar passar um pouquinho da minha vida para o pessoal e talvez mudar a mente de algumas pessoas em relação à nutrição e treino e drogas e essas coisas, então é isso aí, simplesmente faço o convite para vocês.
Muito obrigado.
Roney: Legal, Caio!
Nós que agradecemos o seu tempo aqui, muito obrigado por ter dado essa atenção para a gente, realmente foi um prazer falar com você nessa quase uma hora aí de bate-papo que nós tivemos, mas com certeza valeu a pena cada segundo, tanto para a gente, quanto para quem escutar, vai valer a pena também.
Caio Bottura: Com certeza!
Muito obrigado e é isso aí.
Guilherme: Então, galera, obrigado por ter ouvido mais esse podcast. Lembra de ir lá no iTunes dar a sua avaliação cinco estrelas, que é super importante para o nosso podcast crescer e se você gostou do Caio e gostaria de ter uma segunda rodada, comenta aqui embaixo também. Pode mandar a sua pergunta que, é claro, se o Caio topar vir aqui de novo, nós teremos muito mais material. Ele tem muito o que ensinar para a gente que está escutando até agora.
Roney: Então nós ficamos por aqui.
Um forte abraço, do Senhor Tanquinho.
Guilherme: Você acabou de ouvir mais um episódio do podcast do Senhor Tanquinho.
Roney: Não deixe de se inscrever para não perder nenhum episódio com os maiores especialistas para a sua saúde.